"There's no such thing as a leader without a team, and a team can't function without a leader. This is an important mantra for me to live and work by."
Veronika Vital is Teva api Head of Project Engineering, leading a group of 8 on many diverse API investment projects. She speaks to us about her background in Pharma, her guide to being a great leader and encouraging greatness from her teams, and how to think strategically and get a wider view of any challenge.
I joined Teva api Development Manufacturing & Supply Operations last year as Head of Project Engineering. I work on the API path, and I lead a group of 8 project engineers and tech supervisors. I love the diversity of my role, where I work on short and long-term projects, guaranteeing API quality execution, implementation of all the relevant guidelines, and all within the right budget and timeline.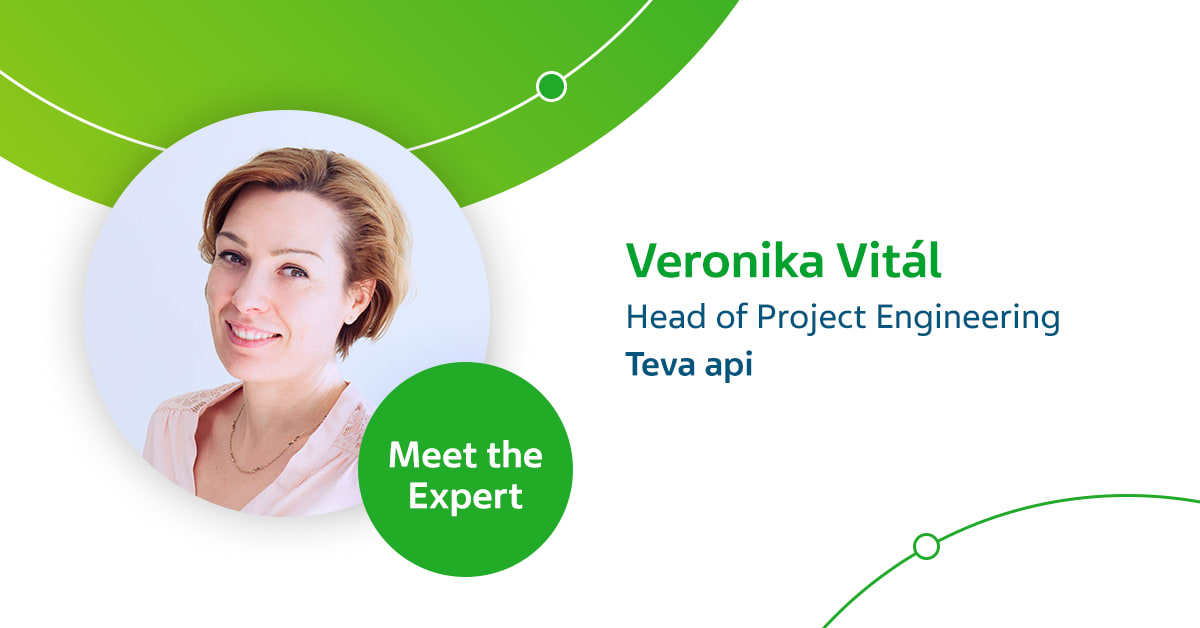 I've been working in Pharma for 15 years! I started out with a mechanical engineering degree, and I immediately started my working life in Pharma. I've got a wide range of experience, from APIs, to biotechnology, vaccine production, containment systems, solid form processing, and more. I've seen the industry from several angles, and this was a really important goal for me, so that I could see all the important aspects first-hand and recognize how it all works as a unit. I use that same technique now in my role at Teva api Development Manufacturing & Supply Operations, working across many teams, seeing how they all fit together. This allows me to think more strategically. When you can see and understand how all the parts work, you can think outside of the box.
I would never want to work in an area I'm not interested in! The role depends on my professional and communication skills, and I love that. Every day I'm in contact with a lot of different teams, as the projects I lead are so comprehensive. We're involved in projects all the way from the design stages to execution, including commissioning and validation, so there a lot of people in the mix! Internally, I'm dealing with Quality Assurance and Quality Control teams, the maintenance, electrical and automation teams, API site production experts, EHS, MS&T, Supply Chain, and more. Externally, there's a lot of collaboration with other stakeholders too. It's all about collaboration. This helps to challenge me and allows me to continually improve myself.
The market is really strong, which means we need to keep pace. My biggest challenge is probably keep step with new technologies and react quickly to the changes while focusing on the quality of the product and the impact on the people involved. It's a big responsibility to keep to the project timelines, and we focus on decreasing costs while increasing efficiency in our projects. We need to be very quick in our reaction times, all while dealing with a lot of projects in parallel, and with just eight of us for the whole site! Without working as a team, this can't happen.
My team is a group of advanced thinkers with advanced vision. It's always challenging to work as the leader of a team, but this is one of the things I love the most about my job. I'm very dedicated to supporting my team members in their own professional development. I focus on each person from their own point of view, and I try to build trust with them, because without trust you don't have anything. I look for what motivates each person, and what would make them satisfied, and support them in getting their and reaching these goals. I make sure that we have plenty of regular one to ones, not only related to open projects, but also for discussing personal skills such as change or time management, or communication.
To be a good leader means to be confident in your team. This trust goes both ways! Of course, as soon as you have team members who are reaching their own goals and who feel satisfied in their job, they're going to give you 100% in return, and they will be much better at their job. They will be more committed to the team, to the role, to Teva api as a whole. There's no such thing as a leader without a team, and a team can't function without a leader. This is an important mantra for me to live and work by.
It's essential to be mindful of mental health when keeping up with intense schedule. With a complex day job, I definitely need to make time to decompress and relax. I love high intensity training, jogging, and sports, but I also equally love curling up with a good Hungarian novel. Sometimes I read professional development books too, such as Everyone Communicates; Few Connect, by John C Maxwell. I also love going out with family and friends, and ensuring I've carved out time to not think about work at all.