"Every day I get up and go to work and see a new problem, an opportunity to learn something new – and this is what I really appreciate." Lena Ben Moha-Lerman is Senior. Dir. Lifecycle Management at Teva api R&D, supervising R&D activities for post-submission products with 6 R&D teams from all around the world. She talks to us about her passion for becoming a Scientist, her inspiration, and what she loves about working in Generics.
It felt really natural for me to go to the biggest generics company in Israel, one of the market leaders the world over.
I've been with Teva api R&D since 2007, right after finishing my PhD in Medicinal Chemistry. I started out in API R&D as a Senior Scientist, and quickly got promoted to Team Leader. After a few years I became the Head of the Chemical R&D department, and more recently in 2018, I've taken on a more global function, supervising products from submission to commercialization across 6 teams worldwide.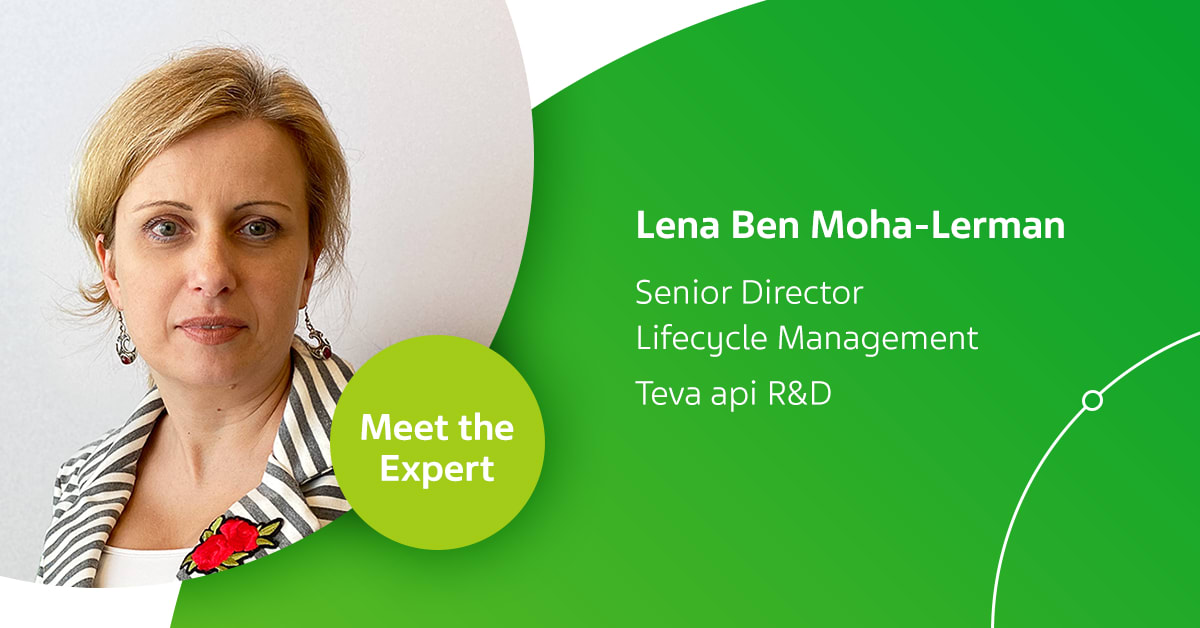 I credit it all to my chemistry teacher!
I had a perfect chemistry teacher, she was incredibly inspiring. Looking back, this was the only reason why I decided to go forward in this field. I actually didn't even submit my application to any other track! I don't regret it for a minute. My first degree was in medicinal chemistry, and then I took a direct path to PhD. Altogether, I was in university for 9 years.
It's an amazing feeling to know that every day we're working on the development of many life-saving APIs.
I'm so proud of my API R&D teams, we're doing life-saving work. I look at the Teva api portfolio and I know that a lot of very important products were developed in my teams, and that's incredible to know.
Whoever is a scientist by nature will never get too far from it. As with any position, as you become more senior, you have less opportunity to dive into the details, in my case, in API Research and Development, that's the science. But every time there is a complex issue to solve, I'm reaching back in, and directing teams which way to go, transferring know-how or skills from one team to another, or supporting with scientific guidance and troubleshooting. I love that.
I look at APIs and Generics like a puzzle that needs to be solved.
When you're working in a generics company, there are so many pieces to put into place. You know what the final picture should look like, but you have to combine the puzzle pieces and overcome issues like IP restrictions and innovator hurdles, and competition from other companies in Pharma. These are the challenges that are blocking our way to breaking down the code and generating the molecule. We really have to use out-of-the-box thinking and be creative.
Not many people can say that they are constantly learning, so that's a really unique benefit of my job.
I learn something new every single day. Of course, there are challenges, being exposed to global teams and cultures, getting to know new people all the time, and how to work across teams that include customer success, sales, marketing, regulatory affairs, and more. But every day I get up and go to work I know that I will learn something new, something that I didn't know yesterday – and this is what I really appreciate. This opportunity to learn is incredibly valuable.
You will face a lot of failures before you find success.
I find that in my job, you have to be optimistic. In science generally, failure is an embedded part of the process. So you have to believe in yourself, and in your innovation and your capability to solve a problem. That also means not taking to heart the failures, because it's part of the process, and the day after you will rise up again! I love the feeling of going into the Pharmacy and seeing on the shelf a medicine with Teva's logo and knowing that the API came from my team. It's where I see the fruits of my labor, and it's an amazing moment for me, every time.
I'm looking forward to returning to travel!
I have a few hobbies, such as playing piano which I love doing in my spare time. I also like to travel to see new places and to meet people from different cultures. As part of my job I used to travel frequently, and as a family we always took a vacation once a year to a new place. I do hope that everything will stabilize soon, and that we'll all be able to travel again before too long.